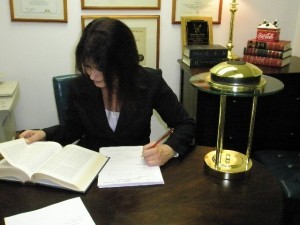 Upon graduation from John Marshall Law School in 1992, I have had my own law practice concentrated in:
CONSUMER BANKRUPTCY LAW
AUTO ACCIDENTS
PERSONAL INJURY LAW
Prior to attending law school I graduated from Triton College with an Associates Degree in Nursing and from North Park College with  a Bachelor of Science Degree in Nursing.
PROUD MEMBER OF:
I was also inducted as a lifetime member into America's Who's Who
Bankruptcy Lawyer in Chicago, IL
The philosophy and focus of my law practice, as a Chicago bankruptcy lawyer, is to provide the highest quality of legal services along with highly personalized attention to each client at an affordable price. With my bankruptcy law firm in Chicago, the main focus is on quality and expert service, not quantity!
PROFESSIONAL COMMITMENT TO CLIENTS
My commitment as a Chicago bankruptcy attorney to my clients is to provide them with competent, expert, personalized, friendly and efficient legal services at an affordable price regarding bankruptcy lawsuits and settlement in Chicago.
WHY ME?
ADVANTAGES OF HAVING ME AS YOUR CHICAGO BANKRUPTCY LAWYER:
Individualized and personalized service to each client
Offers free consultations for every case, including bankruptcy lawsuits in Chicago
Easy to reach and responds quickly and personally to each phone call
Accepts Payment Plans
Flexible evening and weekend appointments available
Always being available to clients with prompt solutions to their legal problems or concerns
Conveniently located at Harlem and Lawrence Ave. at the border of Chicago & Harwood Heights, IL
Genuine personal interest in my clients, it's not just about their legal problems but also the emotional distress that they are going through
Office hours are Monday through Friday 9AM to 6PM. Extended evening and weekend hours are also available.
YOU CAN SPEAK DIRECTLY TO ME ABOUT YOUR FINANCIAL SITUATION, LEGAL PROBLEMS OR CONCERNS. Call 773-286-1228 for a

FREE INITIAL CONSULTATION

for all cases, including Chicago bankruptcy lawsuits and settlement.
SERVING: COOK, DUPAGE, WILL, LAKE, KANKAKEE AND MCHENRY COUNTIES
CITIES SERVED: Chicago, Norridge, Oak Park, Melrose Park, Franklin Park, Forest Park, North Riverside, Brookfield, Maywood, Bellwood, Cicero, Berwyn, Niles, Skokie, Tinley Park, Addison, Elmhurst, Downers Grove, Lombard, Joliet, Elgin, Waukegan, Bloomingdale, Northlake, including all of the northern, southern, eastern and western suburbs of Chicago.
The materials on this World Wide Web site are not legal advice but are for informational purposes only. The information presented herein is not guaranteed or promised to be up to date, complete or correct. This web page and the information presented herein should not under any circumstances be considered as an invitation to and attorney-client relationship, nor is this web page intended to be a source for legal advice, advertising or solicitation. Visitors to this web site should not rely or act upon any information contained in this web site and should seek the advice of a lawyer in the visitor's state. Christina Scelsa a licensed attorney in Illinois is the owner and responsible attorney for this web site
The transmission of any e-mail request for information or otherwise will not and does not result in the creation of an attorney-client relationship. E-mails may not be secure therefore do not send any information or facts relating to your specific legal problem via e-mail.
Copyright 2010 to 2015